What
---
MULTISOURCE is an EU-funded project that will facilitate the systematic, city-wide planning of nature-based solutions for urban water treatment, storage, and reuse. With seven technical pilots across Europe and USA, a wide range of urban waters will be treated throughout the project, while decision support tools will be co-designed together with local, national, and international stakeholders.
When
---
The project started officially its activities on the 1st of June 2021, and it's expected to complete its work at the end of June 2025. Overall, the project will count 48 active months, having a total duration of four years.

How?
---
MULTISOURCE focuses on the intersection of nature-based solutions with the four key areas of environment, circular economy, society, and policy. This is where, stakeholder engagement comes to play a key role. Effective and inclusive stakeholder engagement methodologies will be used for each MULTISOURCE pilot, as well as for the development of business models and planning tools. The Enhanced Natural Treatment Solutions (ENTS) of MULTISOURCE will demonstrate the benefits of increased water quality, water storage, reuse, but also contribute to the creation of valuable urban habitats and provide other important ecosystem services. To achieve this, the municipalities (GIRONA, OSLO) and metropolitan municipalities (CMM, GLYON) will play and stretegic role. They will ensure the tools and business models developed in the project are applicable across the scales needed for widespread uptake and implementation of NBSWT in urban areas (from individual municipalities up to groups of more than 100 municipalities).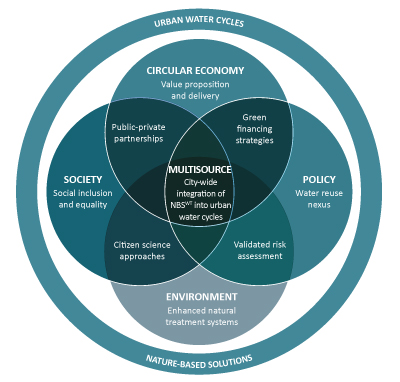 Technical Pilots
7 Locations
---